With the title, "The Elephant in the Cornfield," Chris Clayton's first book draws you in just to find out what it's all about. Chris is the policy editor for DTN/The Progressive Farmer and an issue near and dear to his heart is climate change. I share that interest and was able to sit down with him at the NAFB convention to talk about the subject and what he has written.
The Elephant in the Cornfield is an e-book available now on Amazon.com.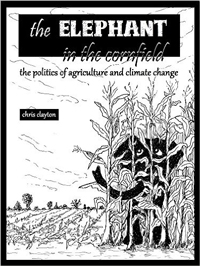 Here's an excerpt of the description of the book:

Midwest journalist Chris Clayton examines the conflict in rural America over climate change, farming and the increasing pressures on food production. Clayton's reporting highlights the critical nature of agriculture in the country's struggle over finding direction mitigating greenhouse gases and adapting to a more volatile climate. The Elephant in the Cornfield explains rural perceptions of climate change, resistance to the science and the outright push to fight attempts to deal with greenhouse-gas emissions.
Clayton looks at the pitched lobbying battle over failed climate legislation in 2009 and 2010 and how cap-and-trade became an almost toxic concept for farmers who are increasingly threatened by more extreme weather while also representing one of the few industries able to pull carbon dioxide from the air and sink it into the soil.
The Elephant in the Cornfield also takes the complex science of climate change and breaks it down by detailing research going back 50 years on greenhouse gases.

Listen to this week's program for more: The Elephant in the Corn Field