Kim Bremmer has spent her lifetime working in agriculture and lending her voice to share the special message about the food we eat with consumers across the country. One way is through CommonGround, a group of farmers having conversations about the food we grow and how we produce it. Jamie spoke with Kim during the 2015 World Dairy Expo to learn more about how CommonGround teaches how to eat fearlessly.
CommonGround shares personal experiences, as well as science and research, to help consumers sort through the myths and misinformation surrounding food and farming. The information tool was developed by farmers through the United Soybean Board (USB) and the National Corn Growers Association (NCGA).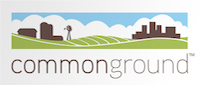 "CommonGround is all women in agriculture volunteering at consumer events, talking about farming and the food we raise. We are not at agriculture events. We are at things like women's expos, dietitians conferences or farm to table dinners. Any time we can help facilitate the conversation between consumers and farmers is really where CommonGround fits in."
Kim said we have more bus drivers in our country than farmers. Farmers are out numbered 99-1 and most people are four generations removed from the family farm.
Through CommonGround you can learn more about farm ownership, GMO's, animal welfare, food safety, antibiotics, hormones, organic & local foods, the price of food and sustainability. Kim encourages us all to ask questions and get engaged.
Kim has also ventured out on her own to continue sharing the real story of american agriculture through Ag Inspirations.
Listen to this week's program here: Common Ground
Subscribe to the ZimmCast podcast here.
View and download photos from the event here: 2015 World Dairy Expo Photo Album