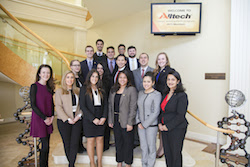 Alltech is recruiting recent graduates to apply for the fourth annual Alltech Corporate Career Development Program.  Graduates with a bachelor's or master's degree programs are invited to apply now through September 30.  The program begins in February of 2016.
Exciting opportunities are available for 10 high-calibre university graduates hoping to work with experts in the fields of science, aquaculture, agriculture, marketing, sales, veterinary science, information technology, business and biotechnology. Alltech aims to develop future leaders in the agricultural industry and values long-term talent development through the Alltech Corporate Career Development Program, which started in 2012. The animal health and nutrition company has a presence in 128 countries globally and is set to grow into a $4 billion business within the next several years.
"This is a life-changing opportunity for recent graduates to interact with colleagues from other countries, develop both their technical and interpersonal skills, and share their fresh ideas," said Dr. Aoife Lyons, director of educational initiatives for Alltech. "Previous Career Development Program members have worked in variety of areas, including internal auditing for Latin America, coordinating Alltech educational initiative efforts and developing the crop science market in Germany. We strive to match successful applicants' interests with Alltech's global needs."
The program is a 12 month salaried mentorship that starts with an intensive training period at the headquarter's of Alltech in Nicholasville, Kentucky, USA.  The participants will learn about topics such as sustainable energy, communications, marketing, and international business.  From there graduates will continue training and development while also managing projects in one of the company's global offices, guided by a mentor.
Last year Cody Hutchins of the US was accepted into the program.  He is currently working in Beijing, China on several projects, including the partnership of five companies to create sustainable pork operation.  Hutchins is also involved in strategies for aquaculture and algae markets in China.
"My experience in Alltech has been amazing, and I am continually impressed with the passionate culture that makes the company thrive," Hutchins said. "Alltech does a great job of empowering individuals to act quickly on opportunities, and the result is a fast-paced, fun and exciting environment. If you want to join in solving some of the world's most challenging issues, while traveling and learning by experience, definitely apply for this program."