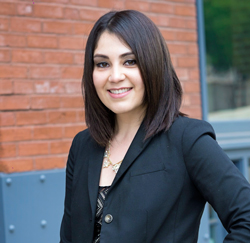 Osborn Barr is hosting Laura Gonzalez, summer intern via the 4A's Multicultural Advertising Internship Program.

This prestigious program had over 1,000 student applicants from all over the country and only 155 were selected. The goal of MAIP is to share multicultural talent with the advertising industry. It offers agencies the opportunity to gain top talent and enhance workforce diversity.
According to Talent Acquisition Manager, Erin Barr, this is O+B's first year with MAIP. "We are always looking to have the most diverse intern class, in a number of ways," said Barr. "Agriculture is an international industry, so we want interns from various universities, degree programs and backgrounds."

At the end of her internship, Laura will travel to New York City to meet with 4A's career professionals and MAIP fellows at the Face of Talent 2015. Laura will be in New York City for one week to go through professional development training. Workshops and activities include leadership development, career readiness, a diversity career fair and more.