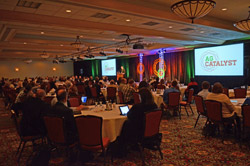 The 2014 AgCatalyst, sponsored by AdFarm, is off to the races. I say that because our opening keynote is from Marcus Sheridan, The Sales Lion. He is a wild animal on the stage talking about how sales and marketing have changed. He's letting us know what we "must" do about it. I hope to get him to sit down for an interview on a break.
We move into breakout sessions after this keynote and I'll be sharing what I'm sure is going to be some great content since, "It's All About the Content."
If you want to follow these inspired conversations about food and agriculture keep your eye on the hashtag, #AgCatalyst.
Speaking of content, find photos here: 2014 AgCatalyst Photo Album