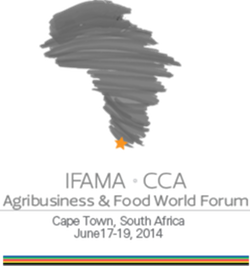 The International Food and Agribusiness Management Association (IFAMA) and The Corporate Council on Africa (CCA) are partnering to convene the Agribusiness and Food World Forum in Cape Town, South Africa on June 17-19, 2014. Framed by three overarching themes – The Talent Factor, Noble Ambition of Feeding the World, and Africa Agribusiness' Age of Opportunity, the Forum will bring together over 500 multi-sector leaders representing over 30 countries. Participants will discuss current and new models for raising the professionalism of agribusiness and developing a sustained talent pipeline to responsibly feed the world, today and in the future.
"Each year, the IFAMA World Forum is a highly anticipated event. We are excited to partner with The Corporate Council on Africa this year in order to increase participation from the private sector and draw on CCA's expertise in the African agribusiness sector," says Don Vondriska, Executive Director of IFAMA.
"Agriculture and agribusiness are projected to grow from $313 billion USD today to $1 trillion USD in sub-Saharan Africa by 2030," says Stephen Hayes, President and CEO of CCA. "With this projected growth and Africa's agricultural sector employing at least 65 percent of the continent's labor force, IFAMA's partnership with CCA to bring its annual World Forum to Africa is a significant contribution to strengthening agribusiness on the continent."
More than 60 industry leaders will speak at the Forum on topics ranging from entrepreneurship to transformative technologies. In addition to workshops and plenaries tailored to the private sector and NGOs, the Forum will also include a 2-day, research-based symposium for academic scholars; a student case competition; and a pan-African trade exposition of agribusinesses operating successfully across Africa.
"People feed the world. And as agribusiness leaders, it is our responsibility to develop future generations of talent passionate about creating and implementing solutions that will ensure we can overcome the food security challenges in Africa and around the world," said Thad Simons, President and CEO of Novus International, President of the IFAMA board of directors, and a CCA board member.