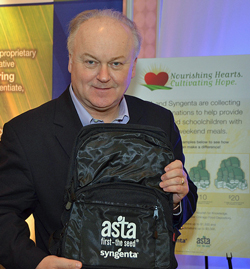 We talk a lot in agriculture about feeding a growing world population but Syngenta and the American Seed Trade Association (ASTA) brought that broad message home during this week's CSS 2012 and Seed Expo in Chicago.
"We tend to think about hunger as being something that happens somewhere else, but it happens in our own backyard – it happens here in Chicago," said David Morgan, Syngenta North America regional director. "We partnered here with ASTA at the event and we're giving matching contributions to donations given for Chicago efforts on hunger relief."
Syngenta was giving away backpacks at the Seed Expo, as well as some cool knit gloves with tech fingers (to operate touch screens) and collecting lots of donations. ASTA pledged to match donations up to $1500 and Syngenta matched up to $3000 – all going to support Nourish for Knowledge, a program of the Greater Chicago Food Depository.

*Post Update* Syngenta reports that they collected over $1600 during the Seed Expo, which was matched by $1600 from Syngenta and $1500 from ASTA – for a grand total donation of more than $4700 to help feed Chicago area children. What a great effort!
I had the chance to chat with David about why Syngenta is one of ASTA's strategic partners and the products they have and are developing to help increase food security worldwide.
Interview with David Morgan