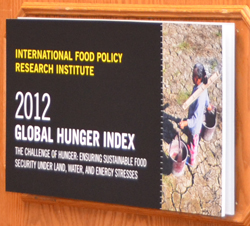 Less people in the world are going hungry but less is still too many.
The 2012 Global Hunger Index (GHI) released by the International Food Policy Research Institute (IFPRI) at the World Food Prize symposium on Thursday shows that hunger on a global scale remains "serious" and 20 countries have levels of hunger that are "alarming" or "extremely alarming."
The good news is that the 2012 world GHI is down 26 percent from the 1990 world GHI, from a score of 19.8 to 14.7.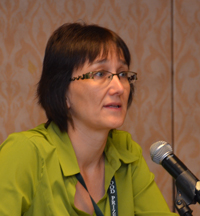 Presenting the report during a breakfast on Thursday, IFPRI Deputy Director Claudia Ringler said they found that those countries facing high levels of hunger also face scarcity of natural resources, limited access to clean water and sanitation and modern forms of energy, and insecure land rights. "While the picture is somewhat grim in the report, the importance is to focus on the solutions and what we can do to reduce hunger and malnutrition levels, and there's a lot we can do," she said.
Listen to my interview with Claudia here: Claudia Ringler, IFPRI
View the World Food Prize Photo Album here.
AgWired coverage of the World Food Prize is sponsored by Elanco