Today the Global Harvest Initiative (GHI) released its 3rd annual Global Agricultural Productivity Report (GAP Report) during the World Food Prize Symposium in Des Moines,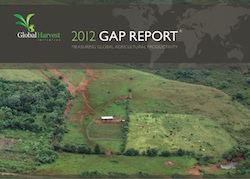 Iowa. The GAP Report details efforts to increase global agricultural productivity, and notes that despite gains, it may not be enough especially in Sub-Saharan Africa, East Asia, and other regions to meet demand.
During a presentation to unveil the report, Laura Barringer, who has been on loan to GHI for the past 18 months, gave a brief overview on how regions were doing, opportunities and challenges, and presented strategies that will need to be deployed, to feed the anticipated global population of 9 billion by 2050. Barringer will become the Global Customer Product Support Manager for the Intelligent Solutions Group this November for John Deere.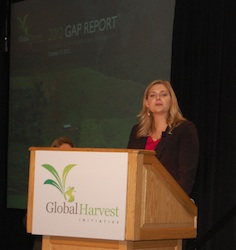 There were several key areas that Barringer highlighted including the conclusion that we cannot meet future global demand unless agricultural productivity increases are achieved in every region of the world, at par with today's levels. This was determined, in part, from the GAP Index, that measures global regional agricultural productivity growth against regional growth in food demand.
Barringer highlighted four key strategies that must occur if global food demand is to be met:
More investment – the GAP Report estimates that today there is an $80 billion dollar investment gap.
Agriculture Research & Development – this is the most important predictor of TFP growth.
Need for Science-Based Technologies – these technologies need to rural-based and have a supportive regulatory system to allow the tools to be used.
Trade Liberalization – Strong trade strategies will help to further expand market access.
You can listen to Dr. Margaret Zeigler's, Executive Director of GHI, remarks here: GAP Report Opening Remarks
You can listen to Laura Barringer's remarks here: GAP Report Overview
Download the full report here.
View the World Food Prize Photo Album here.
AgWired coverage of the World Food Prize is sponsored by Elanco