During events at the 2012 World Food Prize taking place in Des Moines, DuPont announced an enhancement to the Global Food Security Index that was commissioned by DuPont and developed by the Economist Intelligience Unit (EIU). The tool was designed to capture the impact of changes in global food prices at the national level. In response to the rising cost of food, the Index recorded a slight decline in global food security.
"This tool increases the chances of creating sustainable, science-based innovations that target specific challenges, collaborating with others on solutions and bringing know-how to the people and places that need it most," said DuPont Executive Vice President James C. Borel. "Knowing where the impact is the greatest can help focus our collective efforts where they are needed most."
The World Bank estimates that global food price spikes in 2008 pushed 44 million people below the poverty line globally, most of them in poor countries. In the United States, almost 15 percent of households experienced food insecurity in 2011, up 11 percent before recent price jumps. Today, the driver of price increases were the U.S. drought and other global weather issues.
"Many factors affect food prices, from rising demand in emerging markets to abrupt changes in the weather," said EIU Global Forecasting Director Leo Abruzzese. "The new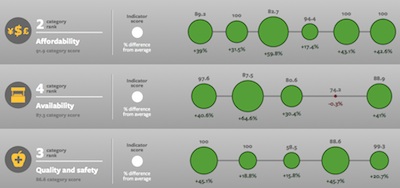 Price Adjustment Factor tool will assess, quarterly, the impact of price changes on a country's ability to afford food. High and volatile prices can impact food security by limiting consumers' purchasing power and calorie consumption."
The Global Food Security Index addresses the underlying factors of food insecurity in 105 countries and points to areas for improvement and reforms. Features include:
Ability to capture the impact of changing food prices on each country's ability to afford food.
Analysis of key findings.
Definition of 25 global indicators that measure specific aspects of food affordability, accessibility, availability, nutritional value and safety.
An interactive heat map of overall scores and detail of category results.
Adjustable weightings to allow for scenario planning.
Ability to compare multiple countries simultaneously and adjust rankings by indicators.
A country details page that allows a food-security drill down into individual economies.
View the World Food Prize Photo Album here.
AgWired coverage of the World Food Prize is sponsored by Elanco