It's time to look forward to the 2012 National Agriculture Day activities in Washington, DC. Things kick off on Thursday morning and I'll be there again this year courtesy of the American Seed Trade Association (ASTA) and Agriculture Council of America.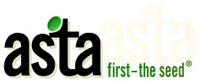 In a look ahead to this week's activities I visited with Julie Douglas, Communications Director, ASTA, during Commodity Classic last week. Julie says there is no other industry as important as agriculture and that ASTA is very happy to support and celebrate farmers and increase awareness of all the good things they do including being good stewards of the land.
Besides attending Ag Day Activities courtesy of ASTA I will also be attending their annual meeting this year which Julie says will be held in Washington, DC for the first time in years. She says it will be an opportunity to bring together all segments of the seed industry who will be able to visit with lawmakers and educate them about the industry and need for continued funding for agricultural research. The annual meeting will not only feature an agvocacy day on Capitol Hill but sessions on conservation and phytosanitary issues as well as individual industry organizational meetings.
The ASTA 129th Annual Convention will be held June 20 – 23 at the Gaylord National Hotel and Convention Center at
National Harbor, MD.
Listen to this week's ZimmCast here: Visiting with ASTA
2012 Commodity Classic Photo Album
Thanks to our ZimmCast sponsor, GROWMARK, locally owned, globally strong, for their support.
The ZimmCast is the official weekly podcast of AgWired. Subscribe so you can listen when and where you want. Just go to our Subscribe page.
Coverage of the 2012 Commodity Classic Show is sponsored by BASF and New Holland