I'd like to thank New Holland for sponsoring the media room at Commodity Classic once again this year. And I'd especially like to thank them for being one of our sponsors for AgWired coverage of the event again this year. New Holland was one of the first companies to support our unique brand of "live" event blogging. This is the 7th year the company has been our sponsor for Commodity Classic. Thank you to Gene Hemphill and to Abe Hughes. I'm looking forward to seeing Abe this afternoon in the New Holland exhibit at the trade show. Now back to our program.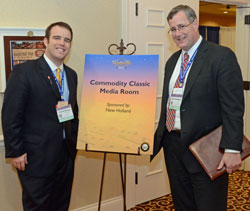 Here are (l-r) Patrick Delaney, Communications Director, American Soybean Association and Ken Colombini, Communications Director, National Corn Growers Association. These two organizations coordinate the media room that we have the privilege to work out of. Cindy caught up with both of them yesterday to find out how attendance at this year's Classic is looking as well as what some of the important issues are facing each farm group.
Listen to this week's ZimmCast here: A Look At 2012 Commodity Classic
Thanks to our ZimmCast sponsor, GROWMARK, locally owned, globally strong, for their support.
The ZimmCast is the official weekly podcast of AgWired. Subscribe so you can listen when and where you want. Just go to our Subscribe page.
Coverage of the 2012 Commodity Classic Show is sponsored by BASF and New Holland