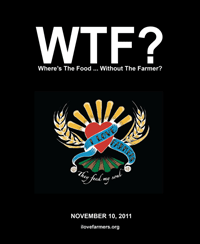 Hey farmer and food lovers. Here's a head's up about a coordinated effort by college students to help do some agvocacy and reach out to other students to help them better understand food production and where it comes from.

Student volunteers from colleges and universities nationwide have joined the agricultural advocacy group, I Love Farmers…They Feed My Soul to promote the importance American agriculture, Thursday, November 10. Students will be on campuses asking the question, "WTF? Where's The Food. Without The Farmer?"
Student volunteers at Texas A&M University, Oklahoma State University, University of Arkansas, Fresno State University, UC Santa Barbara, Cal Poly State University, Iowa State University, Kansas State University and Woodland College are also involved in advocating on the same day. Students will be using social media channels to share what is going on at the individual campuses. You can follow the activity on the Facebook page "NEW I Love Farmers They Feed My Soul" or on Twitter using the hashtag #WTFILF2011.
Megan Silcott, the president of the non-profit I Love Farmers…The Feed My Soul organization says, "Our goal is to create conversations about American agriculture with college students and to disseminate materials that will lead them to credible sources of information about food and agriculture."