Prior to the start of the 2011 Commodity Classic in Tampa, Bayer CropScience held its annual Ag Issues Forum featuring a number of prominent experts in the areas of trade, policy, finance and environmental issues.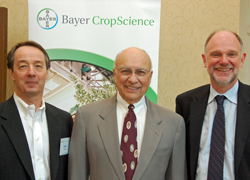 One of those experts was an old friend, former Secretary of Agriculture and U.S. Trade Representative Clayton Yeutter, who is pictured here with Bayer CropScience executives Mike Deall and Alan Ayers. It's been a couple of decades since I had the opportunity to interview Clayton, so it was a real treat to spend a few minutes with him to get his thoughts on agriculture and trade policy, 2011 and beyond.
His remarks to the agricultural journalists centered on how we keep American agriculture profitable in the future. "The key to that really is the international side," he said. "Basically, what's happening in Asia today is an absolute explosion in demand for food, for example."
The former USTR, who is still very much involved in global trade issues as the Senior Advisor for International Trade with the law firm Hogan Lovells, said it is important for the U.S. to approve the pending trade agreements with Columbia and Korea. "The present administration has been sitting on these agreements for two solid years now because they haven't wanted to challenge the labor unions who don't like them," he said. "At some point, the president has to exercise some leadership and say 'enough is enough – I want to get these agreements approved and I'm going to send them to Congress. Vote for them!'"
Yeutter also talked about how agriculture might fare in the upcoming Farm Bill debate, gave some thoughts on the ethanol issue, and said he is excited about the future for U.S. agriculture. "From the demand perspective, we've never seen it this good, globally," he said. "Only five percent of the people in the world are in the U.S., the other 95 are outside. And fortunately for U.S. agriculture, a lot of those folks are in a position to buy food – way more today than when I was secretary of agriculture 20 years ago!"
Listen to or download my conversation with Clayton Yeutter here: Clayton Yeutter Interview
We will be starting to upload photos from Classic soon and coverage of the entire event is just beginning – so stay tuned!