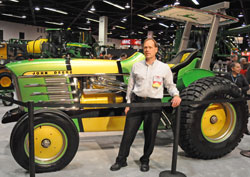 Last week John Deere unveiled a very unique promotional tractor designed by Chip Foose.
It's a 1970 John Deere 4020. The tractor will be given away to one winner as part of the John Deere Big Buck Promotion. You may find rules to enter on the John Deere website.
Posing with the tractor is Rick Tolman, CEO of the National Corn Growers Association.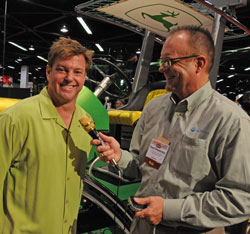 I interviewed Chip right after the unveiling. He talks about how he got into automobile design and this project in particular. You can listen to that interview below.
You can find out more details about the project by reading the post about the unveiling on our Precision Pays website.
I also shot the unveiling so you can watch it as well. As of this writing it has been viewed 3,134 times.