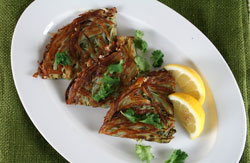 The U.S. Potato Board held a "Hot Potato Ideas" contest and culinary students were rewarded for their innovative recipes like this Cheesy Southwestern Potato Crisps one shown in the photo. During my pheasant hunt our cook made us some of the best potato pancakes I've ever eaten. Perhaps we should get her to enter next time.

Creative ideas and innovation bring excitement to menus and inspire the restaurant patrons who enjoy them. This was the motivation behind the United States Potato Board's (USPB's) "Hot Potato Ideas" contest, which rewarded culinary students for their innovative potato recipes in one of three categories: Ethnic, Healthy and New Classics.
Twenty-two students from the Culinary Institute of America, Hyde Park, NY, campus entered the contest, so deciding upon the top three entries was a challenge. Nonetheless, here is a snapshot of the winning potato recipes:
Cheesy Southwestern Potato Crisps, a Latin-inspired recipe with fresh jalapeño-cilantro pesto and cheese enveloped in crisp shredded potatoes, captured the Ethnic Category and overall Grand Prize in the Potato Innovation Recipe Contest. This fresh and flavorful recipe was created by William "Trey" Smith. The USPB awarded Smith a trip to the Culinary Institute of America's Worlds of Flavors® conference in St. Helena, CA, (Napa Valley) taking place November 12-14, 2009.

Indian Spiced Potato and Spinach "Bajé" earned Adam Kaswiner the $1,000 prize for the Healthy Category. Inspired by his Peace Corps travel in Bangladesh, his recipe demonstrated the versatility of the nutrient rich potato with bold "crave-able" flavors.
Marissa Hines won the New Classics category with her recipe, Not Your Grandmother's Pierogi. The student's sophisticated updated take on this classic comfort food with goat cheese and prosciutto in a leek and morel sauce also earned a $1,000 prize.
For copies of these recipes and for more culinary inspiration, visit potatogoodness.com/foodservice. The USPB thanks all chefs who participated and encourages them to keep exploring innovative uses of potatoes and efforts to introduce these into the foodservice arena.