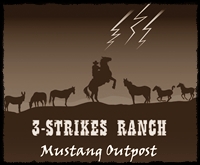 Without a doubt, my past post on the 3 Strikes Ranch incident created an incredibly heated discussion from both animal rights supporters and animal welfare advocates. The mistreatment of animal wasn't the only topic discusses as readers debated horse slaughter, the secret agenda of HSUS and how the horses were treated after the owner was placed into custody. I promised to keep everyone posted with updates on this event, and I thought I would send this release your way. Without a doubt, we can all agree that the mistreatment of these horses is a tragic story that should have never happened. I absolutely do not stand behind these bad apples in agriculture. I pray that these horses find homes soon, and this scenario is brought to justice. -Amanda Nolz
Wife of 3 Strikes Ranch owner cited by feds
Source: KNEB
The wife of troubled Three Strikes Ranch owner Jason Meduna has been cited by the U.S. Attorney's office for animal cruelty, and could face additional federal charges as well. Anissa Meduna was cited after the Bureau of Land Management determined one of the malnourished mustangs being held on the Morrill County ranch for the agency was adopted in her name. Mrs. Meduna co-owns the ranch with her husband and sits on the non-profit ranch's board of directors.
BLM spokesperson Cindy Wertz says the agency is still determining how many of the animals transferred to the ranch by the agency had been adopted by Mrs. Meduna. Wertz says at least three mustangs and three burros that were taken to the ranch by the Bureau of Land Management were in Anissa Meduna's name. Five of those six are dead, and the one living mustang, which is the subject of the federal citation, is being monitored at the BLM facility in Elm Creek, Neb.
If Mrs. Meduna is convicted on the federal count, she faces a $300 fine. Jason Meduna is awaiting a hearing May 20th in Morrill County court on a state charge of felony animal cruelty, which could result in jail time, a fine, or both.