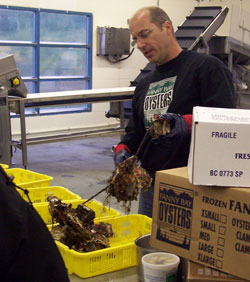 Here's some more information courtesy of Dan Danford, AdFarm, from the Canadian Farm Writer's Federation conference.

These are some pictures from Friday's farm tour at the Canadian Farm Writer's Federation Conference. Our first stop was Fanny Bay Oysters. They grow, process, market and distribute their own farmed shellfish. It was very interesting to learn how they actually seed the bay with the microscopic eggs and later string the baby oysters on ropes for easier processing of adults. It was much more like "farming" than I would have expected. After an overview of the operation, they offered the group some very fresh product. I've also included a shot of the bay behind the facility where you can see mounds of oyster shells being aged as part of the production process.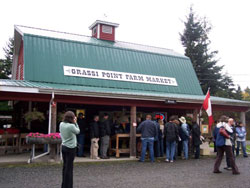 Our next two stops on the CFWF tour were Grassi Point Farm Market and Beaufort Winery.
Grassi Point Farm Market was started in 1889 here on Vancouver Island. It's an excellent example of how market gardening, agri-tourism, fish and wildlife can co-exist. A fourth generation operation, Grassi Point Farm raises beef, taps big maples, operates a roadside farm market and features a fish channel trail and camping.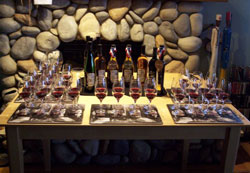 Beaufort Winery is owned by Susan and Jeff Vandermolen, who purchased the land in July 2006 and produced their first wines in 2007, winning three medals at the Northwest Wine Summit. Since opening to the public, they have had more than 2,600 visitors to the winery's tasting room. The farm is 85 acres, eight of which are currently in grapes (watched over by their Easter Island head custom carved from one of their trees). Currently 20 acres are in hay and on acre in Christmas trees. They also have several acres in blackberries which are used in their award-winning dessert wine. As you can see from the pictures, it was raining heavily during our visit. Luckily, the tasting room was dry and cozy.

You can see more of his photos in this online album and yes, I want to go next year! Thanks Dan.