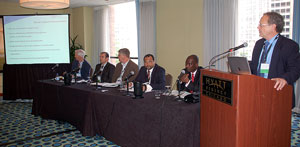 Changing the African vision from one of short-term pay-offs to that of long-term success was one of the key issues for panelists at the "Education and Knowledge Building in Animal Agriculture" breakout session. The session was one of fifteen being offered at the 2008 U.S. Africa Agribusiness Forum. The workshop, sponsored by Novus International, featured a panel of experts that addressed the needs and means for improving education and first-hand know-how for creating "robust agribusiness value-chains" throughout Africa.
And, robust agribusiness in Africa is a very real possibility offering real opportunities if you ask Dr. Jerry Nelson. Jerry is a professor of plant sciences at the University of Missouri-Columbia and served as the panel moderator.
"Africa probably has the most agricultural potential than anywhere we're looking at right now," Jerry said.
Thad Simons, the president and CEO of Novus International highlighted the ultimate goal: "providing safe and secure food all over the world." He added that performance and sustainability were critical for realizing that goal.
The panelists looked at how to drive that performance and sustainability in Africa. Sergio Beliver, sales manager for Europe, Africa and Middle East at Novus International, stressed the importance of education. He said Africans need to be educated not only in the processes, management and technology needed for modernizing Africa's agricultural industry but also in long-term vision. He says farmers need to be taught to recognize the value in a more secure future instead of looking for quick pay-offs in the present. That's something Dave Harlan, director of Global Animal Health & Food Safety at Cargill Inc. also stressed.
"It's not about capturing a high price, but locking in a price that people can live on," Dave said.
Dr. Shaukat Ali Abdulrazak, secretary National Council for Science and Technology in Kenya, also echoed Sergio's call for more education. Shaukat said his country needs personnel that is both educated and trained in modern farming techniques, management and the development of necessary infrastructure. He conceded that one major challenge is "short-sighted politicians" who only consider programs that fall within the parameters of the term they serve in parliament. He says politicians in Kenya tend to have an agenda that expire when their term expires.
But, Shaukat says Kenya does have government initiatives and national development plans that should attract investors. He stressed that leaders in the public and private sectors of both the U.S. and Africa need to work together to build off of the positives that already exist. Shaukat says leaders and experts need to "make lemonade out of the lemons we have."
Tasir Olawale Raji, the permanent secretary with Lagos State Ministry of Agriculture and Cooperatives, agreed. He said its crucial for African countries to move with other developing countries throughout the world, so Africa won't be left behind. And, to do that, Tasir said leaders and experts need to focus on those that are already on the job in Africa, building upon "already acquired experience."
Jerry highlighted the critical agricultural "lemons" so-to-speak that countries throughout Africa need to work on including land, water, electricity, energy and marketing. Jerry said African countries must develop the needed infrastructures and the continent's agricultural industries must exists within those infrastructures. The continent should work as a larger unit to develop a strategy planning mission with each country, Jerry said, offering its own unique approach and contribution.
The entire panel discussion is available here on AgWired.com. You can listen to the discussion in two parts here:
usafag-08-novus1.mp3
usafag-08-novus2.mp3
2008 U.S. Africa Agribusiness Photo Album
AgWired coverage of the 2008 U.S. Africa Agribusiness Forum is sponsored by: