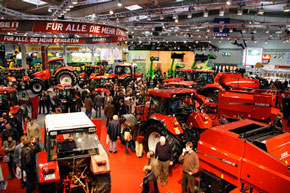 Large, professional operations, that's what Case IH focuses on in Western Europe. So, it's fitting that Case IH is introducing the largest tractor to ever hit the European Market at the farm machinery event in Europe, Agritechnica 2007. The new MAGNUM 335 delivers up to 368 hp with 1,900 rev/min. Case IH also claims the MAGNUM 335 delivers the highest torque of any standard tractor in the world.
Sylvan Blaise, the Marketing Director in Europe for Case IH, says Germany, France and Austria are the biggest markets in Western Europe for the MAGNUM 335 and other high horse power tractors and Agritechnica is an optimal place to introduce the entire redesigned line of MAGNUM tractors. Sylvan says emerging markets for these tractors and the other products Case IH offers are concentrated in central Europe.
Precision farming and autoguidance are also big selling technologies in Europe for Case IH. Sylvan says there is a heavy demand for more integration of precision farming and autoguidance as farmers look to productivity.
Sylvan says the demand for automatic technology, such as the stepless transmission system, is greater in Europe and is, therefore, much more developed. But, he says the North American market is more advanced in precision agriculture and technology. He adds that while Case IH offers a full line of Equipment in North America, the company focuses on tractors, combines and balers for the European market.
You can listen to my interview with Sylvan here:
caseih.mp3