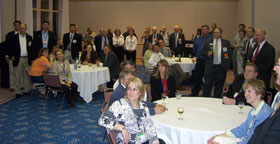 I would be remiss in my coverage if I didn't mention the fact that we had a very nice reception here for the media. This is an annual event and is sponsored by our sponsor, New Holland.
It's a chance to gather together for some fellowship without having to do interviews. It's a nice way to relax for a little while and I highly encourage all organizations to consider it if you don't do this at your event.
This picture was taken when everyone was paying rapt attention to Gene Hemphill, New Holland, welcome us to Tampa.
AgWired coverage of Commodity Classic
is made possible by:

and