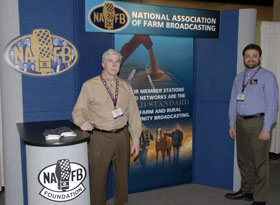 The National Association of Farm Broadcasting is on display again this year at the NCBA Trade Show.
Here's executive director Bill O'Neill and Jeremy Povenmire helping tell the story of farm broadcasting and handing out information.
There are a lot of farm broadcasters here at the convention this year. In fact, I've been told that it's one of the highest numbers of media in attendance ever.