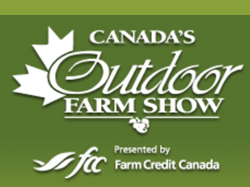 Starting September 9, Canada's Outdoor Farm Show (COFS) returns to Woodstock, Ontario after an extremely successful 20th anniversary last year.
The annual three day event is arguably Canada's largest and top farm show. Best known for interactive outdoor demonstrations in the field, Canada's Outdoor Farm Show (COFS) continues its 20-year tradition once again with a full line-up of new technology demonstrations.
In the Livestock Central area, there will be a fully functional dairy barn showcasing Lely and DeLaval robotic milking systems in a side-by-side comparison. In the popular Southwest Demo field, new agricultural equipment of all sorts will be in action, including live demonstrations featuring Corn Stalk Baling, Vermeer Biomass Equipment, Cover Crop Tillage, high speed Tempo Planters and Corn Silage Harvesting.
Canada's Outdoor Farm Show also offers more than 750 exhibitors across 100 acres – including more than a dozen live commercial crop plots. To learn more about Canada's Outdoor Farm Show visit www.outdoorfarmshow.com, follow @outdoorfarmshow on Twitter or call 519-822-2890. Canada's Outdoor Farm Show will be held on September 9, 10 and 11, 2014.