Agri-Pulse interviewed the new chairman of the House Agriculture Committee on Open Mic this week: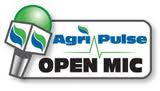 As Chairman of the House Agriculture Committee in the 114th Congress, Mike Conaway has revised the subcommittee structure to allow for closer policy oversight and careful attention to reauthorization of nutrition programs and futures trading. In his first audio interview on ag issues this year, Conaway covers a wide variety of topics. He expects congressional action on immigration policy but isn't sure tax reform will be a part of the early congressional agenda. The Texas Republican says the budget process will dominate the early days of the new congress and expects budget reconciliation to play a major role in policy reform and debate. Conaway says the government must respect industry investments made within the Renewable Fuels Standard but questions overall volumes.
Click here to listen to Agri-Pulse Open Mic with House Ag Chairman Mike Conaway.