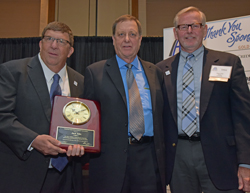 The American Agricultural Editors Association (AAEA) recognized several outstanding AAEA members for their achievements, involvement, and leadership skills during an awards banquet at the 2016 Ag Media Summit.
Jack Odle and Harlen Persinger were presented with the 2016 AAEA Lifetime Achievement Award, an honor designed to honor AAEA members for outstanding professional and personal achievements and leadership, and recognizes the contributions they have made towards the improvement and sustained success of AAEA.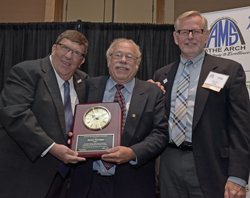 The 2016 Andy Markwart Horizon Award was presented to Ryan Ebert. The annual award is presented by the AAEA Professional Improvement Foundation and John Deere in a matching grant partnership in honor of Andy Markwart, editor of The Furrow, who died in 2006 from heart problems.
The award recognizes an AAEA member who embodies Andy's youthful vigor, energy, passion, dedication and creativity.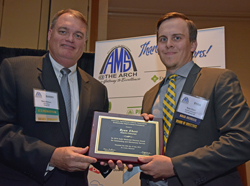 Also recognized at the banquet were Martha Mintz, 2016 AAEA Writer of the Year, Jamie Cole, 2016 AAEA Photographer of the Year, and Amy Gohman, 2016 AAEA Designer of the Year. A full list of all winners will be posted onto the AAEA website.