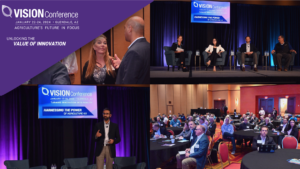 The VISION Conference, now in its seventh year, is set to start the new year January 22-24 at the Renaissance Phoenix Glendale Hotel & Spa with a transformative event focused on building a sustainable value system in food, feed, fiber, and fuel.
The conference will address critical topics such as as data-driven decision-making, barriers to adoption, cross-industry insights, and more. Interactive groups will allow attendees to select from challenges including AI + Data Usage, Overcoming Infrastructure and Support Barriers, and Ag Tech Adoption.
Throughout the event, sessions will delve into the latest data management technologies and processes, proving ROI, and the power of interoperability in ag tech solutions. Leaders with a variety of backgrounds and experience will share their perspectives on the future of ag technology.
Co-locating with The VISION Conference and kicking off on January 21, the second in-person meeting for Women in Ag Tech will provide a vital platform for women in the industry to connect, engage, and build a community. The Global Ag Tech Initiative is committed to advancing and advocating the women in our industry.
The conference will conclude with a panel from the Global Ag Tech Initiative, presenting key insights and takeaways that will shape the industry in the years to come.
For more information and to register for VISION 2024, visit TheVISIONConference.com.