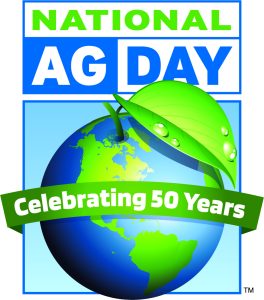 The Agriculture Council of America (ACA) will host National Agriculture Day this year on March 21, marking the 50th anniversary of National Ag Day with the theme "Growing a Climate for Tomorrow."
On March 21, 2023, the ACA will host a virtual Ag Day event and events in Washington, DC and will bring college students to Washington "virtually" to deliver the message of Ag Day to the Hill. A core leadership team of college students will attend events in DC. Other events on March 21 include the Ag Day Proclamation Celebration and Taste of Ag Reception. The 2023 Ag & Food Policy Summit presented by Agri-Pulse will be held both in person at the National Press Club and virtually on Monday, March 20.
The National Ag Day program encourages every American to:
• Understand how food and fiber products are produced
• Appreciate the role agriculture plays in providing safe, abundant and affordable products
• Value the essential role of agriculture in maintaining a strong economy
• Acknowledge and consider career opportunities in the agriculture, food and fiber industry
In addition to the events on March 21, the ACA will once again feature the Ag Day Essay Contest. The winning essay will be presented on National Ag Day.
Amy Bradford with GROWMARK is Chair of this year's events and she provides a preview of the activities in this interview.
2023 Ag Day Activities Preview (7:42)