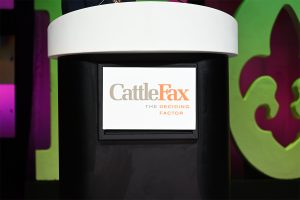 The popular CattleFax Outlook Seminar was presented Thursday at the 2023 Cattle Industry Convention and NCBA Trade Show in New Orleans forecasting producer profitability in 2023 and potential drought relief.
Prices and profitability will again favor cattle producers in 2023. The cattle industry is entering 2023 with the smallest cattle supply since 2015 as drought caused the industry to dig deeper into the supply of feeder cattle and calves. While the exact path to drought relief is unknown, improvements are also expected to translate to moderating feed costs, especially in the second half of 2023. Combined with increased cattle prices, cattle producers, especially the cow-calf operator, will continue to see an improvement in margins for the next several years, according to CattleFax.
Meteorologist Matt Makens said the latest forecast for La Niña has only a 14% probability of existence this spring and down further by the summer, which means a pattern change comes our way this year. A neutral phase will take control of the pattern as La Niña weakens and may last several months before giving El Niño a chance to grow this summer and into the fall. Makens said putting this latest La Niña episode in the review mirror suggests improving drought conditions, more favorable growing seasons and healthier soils.
Kevin Good, vice president of industry relations and analysis at CattleFax, reported that U.S. beef cow cattle inventories have already fallen 1.5 million head from cycle highs. The 2023 beef cow herd is expected to be down about another million head to nearly 29.2 million. Good forecast the average 2023 fed steer price at $158/cwt., up $13/cwt. from 2022, with a range of $150 to $172/cwt. throughout the year. All cattle classes are expected to trade higher, and prices are expected to continue to trend upward.
CEO Randy Blach concluded the session with an overall positive outlook, expecting improvements in the weather pattern and a tighter supply to distribute more money though all sectors of the cattle industry.
Listen to CattleFax presentations and interviews from CattleCon23.
CattleFax 2023 U.S. & Global Protein & Grain Outlook
2023 CattleCon CattleFax report by Kevin Good (23:02)
2023 CattleCon CattleFax report by Randy Blach
(24:28)
2023 CattleCon interview with Kevin Good, CattleFax
(4:45)
2023 CattleCon interview with Randy Blach, CattleFax
(6:28)
2023 Cattle Industry Convention and NCBA Trade Show Photo Album