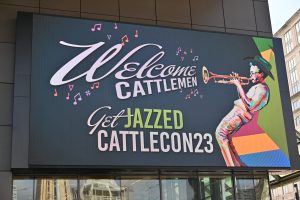 Early Mardi Gras is in bloom on the streets of NOLA as cattle producers from around the nation gather for the 2023 Cattle Industry Convention and NCBA Trade Show.
Attendance is good and NCBA president Don Schiefelbein is seeing a lot of smiling faces. "It's amazing what good prices do for good attitudes," he said.
At the same time, producers are facing plenty of challenges, like the resurrected Waters of the United States (WOTUS). "Everybody wants to take what was once a pretty satisfactory solution and say let's get the government involved more, create more complexities, and create more uncertainty for our ranchers – which is certainly something we don't want."
In this interview, Schiefelbein also reflects on his term this past year as NCBA president.
2023 CattleCon interview with NCBA president Don Schiefelbein (4:14)
Keep up with what's happening at CattleCon23 in the official Virtual Newsroom where session audio and interviews will be posted throughout the convention.
2023 Cattle Industry Convention and NCBA Trade Show Photo Album