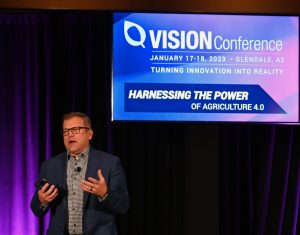 With the value of the autonomous farming sector forecast to reach $95 billion by 2027 the promise of business growth is leading to interesting partnerships and investment agreements.
"Autonomy Makes Strange Bedfellows" was the title of a panel at the 2023 VISION Conference this week organized by the Association of Equipment Manufacturers (AEM) and moderated by Senior Vice President Curt Blades with representatives from John Deere, Yara North America, and Topcon. "Those are three very different companies that are all collaborating with each other and others in the industry," said Blades.
Blades says Yara is a global crop nutrition company that has been actively involved in AEM and the precision ag space. "They've had the vision of understanding how important it is to work really closely with traditional equipment manufacturers."
Representing Yara on the panel was Incubation Lead Courtney Yuskis. She was joined by Michele Kaiser, Business Development Manager, ISG, John Deere, and Kent Carroll VP Sales for North America with Topcon Agriculture.
Listen to an interview with Blades about the panel and his comments on AEM's latest tractor and combine sales report for 2022.
VISION 2023 interview with Curt Blades, AEM (4:44)