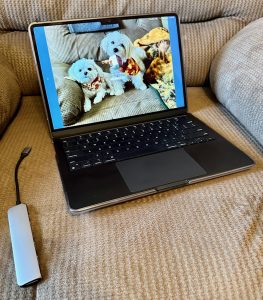 I'm talking about the new MacBook Air M2. It was time for this agnerd to upgrade from my MacBook Pro 2019. I've already been on-location with it and I'm very happy (mostly) with it.
Things I like so far:
13.6″ display
Battery – I didn't charge it for two full days of uploading photos, editing audio, etc!!
Faster performance
Light weight and thin
Things I'm so-so on so far:
MagSafe charging – Apple, I wish you could decide on some standards in your products
Only 2 Thunderbolt/USB-4 ports – That's why I had to have a Hyper-Drive USB Type-C Hub (in picture)
I got the midnight finish and purchased a Speck clear case. I'm happy and would recommend it. And I'm happy to answer any questions you might have.
BTW. I'm still in the Windows world. I just got Cindy a Surface Laptop 4 recently to run Windows 11 on. She is doing well with it. Her older laptop couldn't upgrade to Windows 11.
So, that's about all I can say about that right now. I'm definitely enjoying my iPhone 14 Pro. I think I'm using it more and more as the camera just continues to improve to a point that I've used many photos from it for social media and other web use.