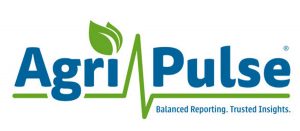 Coming up this Thursday, December 1, Agri-Pulse is offering a free webinar on "How precision pays with crop insurance.
As farmers look ahead at rising operating costs and tightening margins, upcoming crop insurance decisions will be more important than ever before. Understanding how to leverage precision ag technology as part of crop insurance planning can make a difference in risk management and overall profitability.
"Crop insurance has long been important to farmers and ranchers, but there are opportunities to make the risk management decision-making process ever more efficient and effective when you employ precision tools," says Agri-Pulse Editor Sara Wyant.
Webinar guests include:
Administrator Marcia Bunger, Administrator of USDA's Risk Management Agency
Matt Olson, manager of Precision Ag Go-To Market with John Deere Agriculture & Turf Division
Jeana Harms, Agri-Risk Solutions agent and western Nebraska farmer
Zach Allsup, assistant vice president of external claims at Farmers Mutual Hail
The webinar takes place at noon central time and is sponsored by Farmers Mutual Hail. Register here.