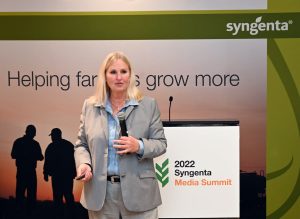 Mary Kay Thatcher has been in policy "since the first Bush administration" when she left Iowa for Washington DC after college, so when she talks about policy, people in agriculture listen. After 30 years with the American Farm Bureau Federation and now Sr. Manager, Federal Government & Industry Relations at Syngenta for almost five years, most everyone knows Mary Kay and her policy talks are highly anticipated wherever she speaks.
Thatcher gave her policy overview at the Syngenta media event this week in New Orleans, hitting all the major issues, starting with the very important midterm election next week. "I wouldn't get all excited about staying up on November 8th, or probably November 9th for that matter, because I suspect we'll have 10 or 12 races that will be within one percent," she said during her remarks.
As for the 2023 Farm Bill, Thatcher expects that will not happen by October 1 of next year. "Very little chance," she said in an interview. "The fact is that we really don't have to reauthorize nutrition or crop insurance programs because they go on regardless…and the Inflation Reduction Act did the same for conservation…so that is going to take the pressure off getting this done."
The biggest challenge for farmers Thatcher believes comes from the Environmental Protection Agency. "Farmers have a lot of tools in their toolbox from EPA but it appears they're trying to remove those tools and that's going to make life difficult on the farm," said Thatcher.
Listen to Thatcher's interview below.
Syngenta media - Mary Kay Thatcher interview 6:59