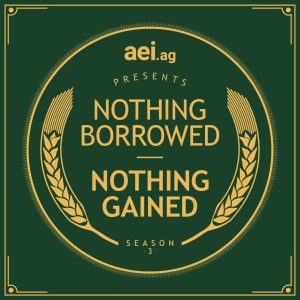 The third season of the award-winning AEI Premium Presents podcast series tackles how farm financing works, and when it doesn't, in the latest podcast "Nothing Borrowed, Nothing Gained."
This season, hosts Sarah Mock, Brent Gloy, and David Widmar are back, along with a team of experts. Together, they will shine a spotlight on the often mysterious world of agricultural lending. How does a farm loan work? Where, exactly, does the money that farmers borrow come from? How do interest rates impact lenders and borrowers? Farmers, agribusiness leaders, farm policy wonks, and students are each sure to glean insights.
"This season, we connect the dots from the farm to the Federal Reserve and ponder where the future of farm financing may be headed during uncertain times." said AEI Premium co-founder and "Nothing Borrowed, Nothing Gained" co-host David Widmar. "You'll walk away with an answer to the question: just how risky is ag credit?"
"Nothing Borrowed Nothing Gained" builds on themes from the first two seasons of AEI's podcast, "Escaping 1980" and "Corn Saves America." Season one explored the causes, impacts, and lasting effects of one of the most infamous events in American agriculture history – the 1980s farm crisis – so listeners could better understand today's farm economy. Season two explored the history of the ethanol boom for insights into what might be ahead for carbon markets.
Listen to a recent interview with Widmar here.
2022 Tech Hub LIVE interview with David Widmar, AEI 6:03