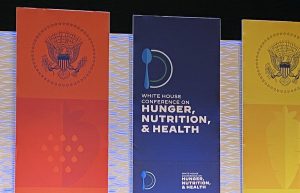 National Cattlemen's Beef Association (NCBA) CEO Colin Woodall this week attended the White House Conference on Hunger, Nutrition, and Health to represent the nation's beef cattle producers.
"The White House has prioritized ending hunger and increasing access to nutritious food and America's cattle producers are ready to help by providing safe, sustainable, and nutritious protein to the world," said NCBA CEO Colin Woodall. "We will continue to highlight beef's role as an excellent source of protein for all ages, especially for those Americans lacking iron and other essential beef nutrients."
The White House Conference on Hunger, Nutrition and Health, held for the first time in over 50 years, provided an opportunity for stakeholders to discuss solutions to end hunger and reduce the risk of diet-related diseases by 2030. Agricultural producers have a central role in this conversation as providers of our nation's food. NCBA has previously highlighted the importance of beef in a balanced diet and will continue to showcase the innovative, sustainable production practices employed by cattle producers that ensure safe, wholesome, nutritious beef is accessible to all.
NCBA Director of Policy Communications Hunter Ihrman interviewed Woodall about the conference.
NCBA interview on White House conference (6:08)