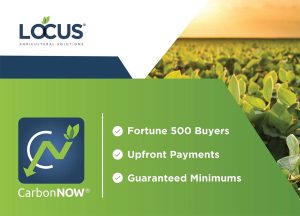 With farmers being hit from all sides by carbon farming ventures, it's important they ask the right questions and get the right answers.
Travis Kraft, director of row crops for Locus Agricultural Solutions® (Locus AG) and CarbonNOW carbon farming expert, says farmers should know how much they will be paid for their carbon and how long it will take to receive that payment. "With CarbonNOW, farmers don't have to wait years for payment. They get guaranteed money upfront with no program fees, plus the chance for bonuses."
Locus AG recently celebrated $1.2 million in carbon payments made upfront on a per-acre basis to over 40 growers through the program. Kraft says the CarbonNOW carbon farming program was developed to overcome the financial hesitations farmers have about participating in carbon markets and it is the first carbon program to offer guaranteed annual minimums with upfront cash payments, accruing performance bonuses and no program fees.
Learn more about Locus AG and CarbonNOW in this interview.
Travis Kraft, Locus AG CarbonNOW (10:07)