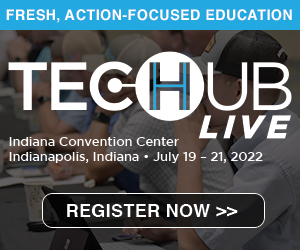 The second annual Tech Hub LIVE Conference and Expo will take place on July 19-21 in Indianapolis, building on last year's premier event with timely educational programming, expanded business opportunities, and a keynote on strategies for delivering tech solutions to farmers.
Tech Hub LIVE co-chair Lara Sowinski says the CropLife Media Group® event is focused on proven, actionable solutions that can be deployed immediately. "Tech Hub LIVE is where business gets done, new connections are made and the industry advances through data-driven technologies," said Sowinski.
The keynote speaker for this year's Tech Hub LIVE is David Widmar, Managing Partner at Agricultural Economic Insights, who specializes in agricultural trends and the farm economy. He will share what lies ahead as he breaks down demographic trends in U.S. agriculture and how to navigate the hurdles to help producers increase profitability, reduce stress, and make better decisions.
The conference will offer diverse networking formats, including one-on-one meetings, break-out sessions, small group discussions, technology talks and fireside chats. The program has been specifically developed to help attendees leverage precision technologies for better profitability, find the latest hardware and software solutions, understand sustainability's evolving demands, and break barriers to tech adoption. Plus, there will be multiple opportunities to engage with peers at the Welcome Party located at the Fowling Warehouse and during the Networking Reception.
Learn more about what's in store for the 2nd annual Tech Hub LIVE in this interview with Sowinski.
2022 Tech Hub LIVE preview with Lori Sowinski 6:19