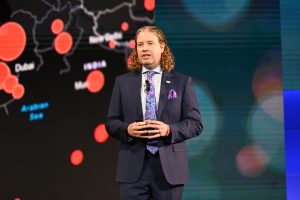 Alltech President and CEO Mark Lyons was thrilled to be back on the stage in the Central Bank Center in Lexington, Kentucky today to welcome over a thousand of his closest friends from around the world back to the Alltech ONE Conference in person.
"It was a three year hiatus so it was a bit different than what we've done in the past," Lyons said of the opening general session on Monday. "Alltech has been on this mission and focused on the Planet of Plenty over the past three years and its gone from being an idea of a few to permeating all of our company and beyond."
Now in its 38th year, Alltech's global agri-food conference features tracks in agriculture, business, health and wellness, and professional development. It is in person in Kentucky this year but also available virtually on a first-class platform, with live-streaming keynote and select on-demand track presentations available to ensure accessibility to everyone, everywhere.
Alltech CEO Mark Lyons welcome remarks
ONE22 Alltech CEO Mark Lyons welcome (2:15)
Alltech CEO Mark Lyons thrilled with open of ONE22
ONE22 Alltech CEO Mark Lyons comment (1:44)
Virtual Newsroom