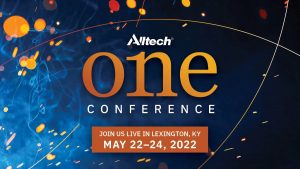 It has been 3 years since the Alltech ONE Conference was an in-person event. This year we get to see each other in person though. And for those who can't make it there is a separate virtual option!
I will be in Lexington to work with Alltech once again and look forward to seeing many friends. That includes Dr. Mark Lyons, President and CEO of Alltech. I visited with him yesterday to record a preview of this year's event. We started with the main theme, "Let's spark a brighter tomorrow, together." It is definitely the togetherness that we have all been missing but we can change that this year.
There are some fun pre-conference activities planned in Lexington for attendees and locals (one is called Beer Yoga). Then when things kick off there will be over 70 presentations with world class speakers. Check them out and scroll through the agenda and register on the Alltech ONE website.
You can listen to my interview with Dr. Lyons to hear more here:
Preview of Alltech ONE Conference (11:25)
The Alltech ONE Conference will be held May 22–24, 2022, both in person and virtual. For more information and to register, visit one.alltech.com.