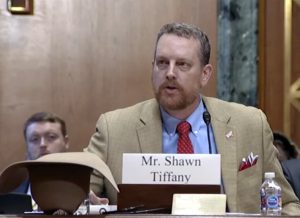 Two bills designed to address transparency and oversight within cattle marketing were the subject of a Senate Agriculture Committee hearing on Tuesday where the National Cattlemen's Beef Association expressed opposition to a "government mandate on cattle sales."
The hearing was specifically on the Cattle Price Discovery and Transparency Act sponsored by Sens. Deb Fischer (R-NE) and Chuck Grassley (R-IA) and another bill by Sen. John Tester (D-MT) creating additional oversight through a special office at USDA.
Kansas Livestock Association and NCBA member Shawn Tiffany testified that the legislation could potentially result in fewer marketing opportunities and less incentive for producers to invest in genetics and innovative production techniques that lead to higher-quality beef. "Every producer wants fair market value for the animals we raise and produce and many of us achieve that true value through value-based alternative marketing arrangements. Accordingly, I do not support a government mandate, of any kind," said Tiffany. "Regardless of how well intentioned the concept of helping producers obtain fair market value for their animals, the end result will be fewer marketing options for U.S. producers."
Sen. Fischer defended the legislation as a cattle producer and member of NCBA. "I'm not happy about mandates. I'm a rancher, I don't like mandates on anything," said Fischer. "But when you put forward voluntary programs and it is shown they don't work and acknowledged by associations that they don't work, we need to look elsewhere, and we have done that with this bill."
American Farm Bureau Federation is also opposed to mandatory cash trade requirements, while National Farmers Union and U.S. Cattlemen's Association are in favor of the legislation.
Listen to remarks from Tiffany and Fischer:
Shawn Tiffany, Kansas Livestock Association (5:17)
Sen. Deb Ficher (R-NE)
(3:33)