CropTrak has released a new platform update that adds digital contracting and settlement creating the ability to digitize grower contracts into a single supplier management system.
The updates provide multi-stakeholders complete visibility of the financial transactions across their ingredient supply chain so that for the first time, food and beverage companies managing grower contracts and settlements can do so in one seamless platform optimized for collaboration and insights.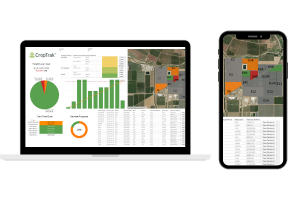 "For companies who manage hundreds or thousands of field contracts, integrating the buyers, agronomics, and accounting teams into a single, real-time source of truth can save the company millions of dollars," said Aaron Hutchinson, co-founder and CEO of CropTrak. "Our goal is to continue to lead the food industry with ongoing innovation and process improvements to help assure food is safe, affordable, and sustainable, while making paper contracts a thing of the past."
Using a fully integrated cloud-based platform, CropTrak customers spread production demands across grower fields in the form of digital contracts. The contracts are then connected with on-farm activities and inputs during the season to ensure contract compliance before being combined with harvest, grading, and weight data to calculate the ERP payment memo for growers, haulers, and other service providers. The auditable digital record of every entry is maintained in a single-ledger cloud database that supports verification of crop, contract, and sustainability data at any time and with confidence.
Hutchinson talks about the new capabilities and the benefits for growers and others in the food system.
CropTrak CEO Aaron Hutchinson explains new capabilities (4:29)