As the Russian invasion of Ukraine entered its third week last week, the new weekly agricultural video program Newsmakers from Agri-Pulse released episode five, with Sen. John Thune (R-SD) offering his thoughts on solutions to inflation, why the Ocean Shipping Reform Act is vital to U.S. agriculture, and how biofuels can help make the U.S. less dependent on Russian oil.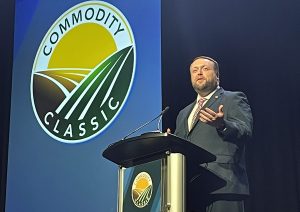 Meanwhile, Newsmakers host Spencer Chase, who is currently serving as president of the National Association of Farm Broadcasting (NAFB), was busy gathering more content for future shows at the Commodity Classic last week where Chuck Zimmerman managed to get a quick interview with him about this new program.
"We wanted to produce something that was strictly focused on food and agriculture," said Chase. "The main thing we want to convey is good, reliable, accurate information that tells folks what is going on in Washington."
Chase says as the program develops they would like to get more producer interaction.
Classic Interview with Spencer Chase, Agri-Pulse
(4:19)