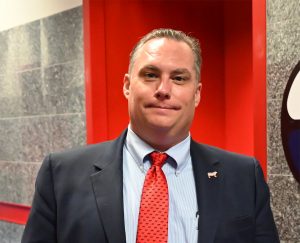 The executive committee of the National Cattlemen's Beef Association (NCBA) approved the organization's 2022 policy priorities this week during the 2022 Cattle Industry Convention and NCBA Trade Show, with an emphasis on strengthening the economic, environmental and social sustainability of the cattle industry.
The 2022 priorities include:
Improving market leverage and opportunities through increased access to market data and risk management tools for producers.
Securing the future of the beef industry by protecting crucial tax provisions, limiting regulatory burdens on farms and ranches, and leveling the playing field for producers.
Boosting the resiliency of the beef supply chain by addressing labor shortages, improving processing capacity, expanding technology, and strengthening transportation.
Achieving key cattle industry priorities in the 2023 Farm Bill.
"Cattle markets are going to continue to be a pretty high priority issue," said Ethan Lane, NCBA Vice President of Government Affairs. "And then climate and sustainability I think are going to continue to be top line items as cattle producers recognize what a positive story they have to tell in that space."
Lane discusses NCBA policy priorities in this interview.
CIC22 Interview with Ethan Lane, NCBA 6:39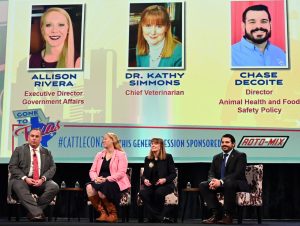 The NCBA policy team gave updates in all of their respective areas during the convention on Wednesday.
Ethan Lane, NCBA Vice President of Government Affairs
CIC22 Policy Update - Ethan Lane, NCBA 9:50
Animal Health Policy Team: Allison Rivera, Executive Director of Government Affairs; Dr. Kathy Simmons, Chief Veterinarian; Chase DeCoite, Director of Animal Health and Food Safety Policy
CIC22 Animal Health policy update 22:07
Cattle Business Policy Team: Danielle Beck, Director of Government Affairs; Kent Bacus, Senior Director of International Trade and Market Access; Tanner Beymer, Government Affairs and Market Regulatory Policy
CIC22 Business policy update 26:12
Climate Issues Policy Team: Kaitlynn Glover, Public Lands Council; Scott Yager, Chief Environmental Counsel; Mary Thomas-Hart, Environmental Counsel
CIC22 Climate policy update 25:00
2022 Cattle Industry Convention and NCBA Trade Show Photo Album