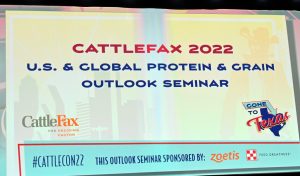 The popular CattleFax Outlook Seminar was back at the 2022 Cattle Industry Convention and NCBA Trade Show in Houston Wednesday.
The overall picture is that cattle price and profitability trends for producers are pointed in the right direction, even as challenges and uncertainty persist with continued disruptions from the pandemic. While issues around labor and packing capacity have lingered, both are expected to improve in the year ahead. These expansions in capacity combined with strong global and domestic consumer beef demand suggests increased profitability across segments, signaling a market that is healthier and more stable in the year ahead.
Kevin Good, vice president of industry relations and analysis at CattleFax, reported that U.S. beef cow inventories have fallen more than 700,000 head from last year and are off nearly 1.6 million from cycle highs. This year, the beef cowherd will near 30.1 million head.
CattleFax CEO Randy Blach concluded the session with an overall positive outlook, expecting margins to improve as cattle supply tightens and producers gain leverage back from packers and retailers, beef demand to remain solid with expected export growth, and utilization and packing capacity to improve over the next few years.
Listen to Blach's presentation and an interview with Good.
CIC22 Randy Blach, CattleFax 9:01

CIC22 Interview with Kevin Good, CattleFax 5:13