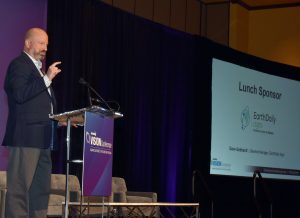 At the 2022 Precision Ag VISION Conference this week, EarthDaily Analytics announced the rebranding of its Geosys division to EarthDaily Agro and released a new, next generation software platform.
"Geosys has been a pioneer in the agriculture data and analytics space for more than 30 years," said Dave Gebhardt, General Manager of EarthDaily Agro. "The new Geosys platform is just as visionary — it's unlike anything else out there right now in terms of data, speed, reach and ability to fully integrate customized scientific-grade data and insights directly into customers' systems and workflows. By combining satellite imaging and advanced analytics to effectively mitigate risk and increase efficiency, we are enabling more sustainable outcomes for the organizations and people who feed the planet."
The well-known Geosys brand will live on as the name of EarthDaily Agro's next-generation software platform — a platform that is easier to use and offers more flexibility, faster speed and greater scale — to provide more customers with more data in more markets in agriculture. The new platform will be rolled out over the course of the first quarter 2022.
In addition to its role as a presenting sponsor at VISION, EarthDaily Agro hosted a virtual media roundtable to share the news and discuss how decision-makers in the AgTech industry can use the new platform to tackle some of the world's most challenging issues.
Learn more in this interview with Gebhardt.
VISION 2022 interview with Dave Gebhardt, EarthDaily Agro 3:02