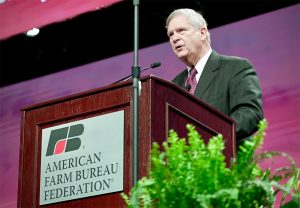 Secretary of Agriculture Tom Vilsack stressed the role of farmers and ranchers in addressing climate change issues during an address Monday at the American Farm Bureau Convention in Atlanta, Georgia.
Vilsack said he is excited about a new partnership between USDA and Farmers For Soil Health, an initiative of the United Soybean Board, National Corn Growers Association and National Pork Board. "We're announcing a goal of doubling the number of cover crop acres to 30 million acres by 2030," said Vilsack.
To complement the new partnership, NRCS is investing $38 million through the new targeted Cover Crop Initiative in 11 states to help agricultural producers mitigate climate change through the widespread adoption of cover crops. States include Arkansas, California, Colorado, Georgia, Iowa, Michigan, Mississippi, Ohio, Pennsylvania, South Carolina and South Dakota.
The secretary also addressed trade issues and livestock marketing concerns.
Listen to Vilsack's remarks, preceded by recorded comments from President Joe Biden.
AFBF22 Ag Secretary Tom Vilsack remarks (33:45)