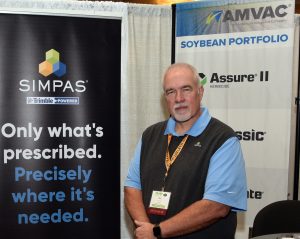 AMVAC's SIMPAS™ (Smart Integrated Multi-Product Prescription Application System) continues to grow the number of products that can be used with the prescriptive application equipment.
"Last year we started with just a handful of products, so this year we're introducing several more products," said Jim Lappin, SIMPAS Commercial Manager, during an interview at the National Association of Farm Broadcasting Trade Talk.
AMVAC partners with Trimble® on the proprietary SIMPAS system, which enables farmers to precisely and variably apply up to three SIMPAS-applied SolutionsTM (SaS) in-furrow in one simple pass while planting. SIMPAS was developed to deliver the exact rate of each SaS product within targeted management zones.
"The way we've built the system is you only get charged for those areas you're actually treating," said Lappin. "Only apply what's prescribed and only pay for what you apply."
Learn more in this interview.
AMVAC Interview with Jim Lappin, SIMPAS (5:03)