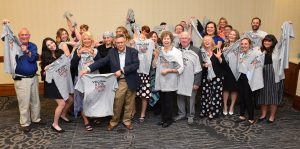 The annual Golden ARC Awards were announced during a banquet yesterday. The awards were started in 1990 and became the most prestigious awards for agricultural public relations. The actual awards were victim of a shipment that did not arrive as scheduled so the winners will receive them after the annual meeting. A list of the winners will be available soon and I'll update this post with a link to it then.
The Golden ARC de Excellence was won this year by OBP Agency for the overall best campaign. The entry was in the Events and Observances category titled, "Deltapine Cotton 2020 Virtual NPE Summit Media Engagement."
All attendees did receive their t-shirts which arrived just in time. So, we decided to have a little fun with them after the banquet. The ARC Annual Meeting will conclude with a day long tour today.