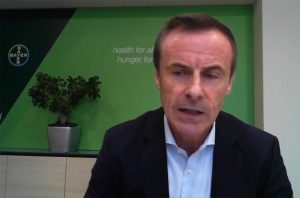 The Bayer glyphosate plant in Luling, Louisiana is back on line after being down for five weeks following Hurricane Ida. Bayer Crop Science Division President Liam Condon provided an update during an investor call this week.
"It was actually in the eye of the storm of Hurricane Ida and it is standard practice that when you have a hurricane of that kind of magnitude we had to shut down the facility," said Condon. "The reason we were offline was less because the plant was heavily impacted but that the surrounding infrastructure was partially destroyed with no access to energy or water."
The Louisiana plant provides all of the active ingredient for Bayer Roundup products in the U.S. and demand for glyphosate remains high, but Condon says they expect to recover production quickly. "We have lost five weeks of production and this will involve some idle cost and some impact on sales but nothing to any degree that would impact our full year guidance," he said.
Liam Condon Update on Bayer Louisiana plant
(1:39)