During the 2021 NAMA Fall Conference the winners of the Professional Development Awards of Excellence received their awards. Presenting were Sara Steever, NAMA President/Paulsen and Don Tourte, Farm Progress.
First up was Susan Carney, Corteva Agrisciences, who was honored in the area of marketing communications. In her remarks she talks about her career and how she developed her success in marketing which included fully understanding the customers.
Listen to Susan's remarks here:NAMA PDA winner Susan Carney, Corteva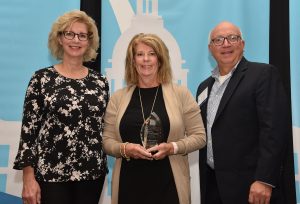 Next, Amy Bradford, GROWMARK, was honored in the area of public relations.
In her remarks she talked about the people who have influenced her and how she always tried to find the right spokesperson to be in front of the camera when it came time for media interviews. Although, she did admit that she gained that skill from some of her influencers.
Listen to Amy's remarks here: NAMA PDA winner Amy Bradford, GROWMARK
The other winner this year was Nicole Bechtel, National Cattlemens' Beef Association, in the area of Sales. She was not able to attend. It was her work leading her team in media sales and contributing greatly to sponsorship sales for the 2021 Cattle Industry Convention and the Winter Reboot that in part, gained here this honor.