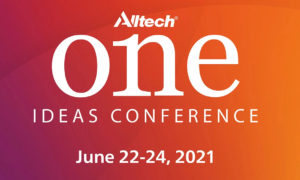 The Alltech ONE Ideas Conference returns virtually next week to unite thought leaders and change makers for an exploration of the power of science, sustainability and storytelling. The event was slightly delayed this year from its usual May time frame to June 22-24 because of Alltech's commitment to ensure that attendees have the best virtual experience they can provide so they took the extra time to perfect a new online platform for an even more robust and interactive experience.
Alltech President and CEO Mark Lyons is excited about the updates they made to the conference since last year when the company was one of the very first to employ a virtual format for a meeting after the pandemic lockdown forced cancellations and delays in events around the world. "The situation last year was a very intense period of time, around 70 days or so the team had to pull things together," said Lyons. "One of the big things we wanted to work on this year was to make sure the level of interaction was much higher."
"We recreated the Lexington Convention Center and we even have an Alltech pub in there and so people can go around, they can interact, go to booths, and talk to people about topics they are interested in," said Lyons. Find out more about the conference in this interview.
Alltech ONE preview - Dr. Mark Lyons
(14:03)
Now in its 37th year, the 2021 Alltech ONE Ideas Conference (ONE), features tracks in the aqua, beef, crop science, dairy, equine, health and wellness, pet, pig, and poultry sectors. Registration is still open and the first session will start on Tuesday morning, June 22.