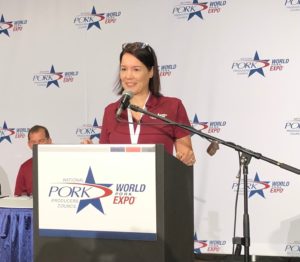 The National Pork Producers Council (NPPC) kicked off the return of World Pork Expo with a policy priorities press conference focused on the administration appeal of a recent federal district court ruling striking down faster harvest facility line speeds, legal action on California's Proposition 12 and expanded export market access. The expo is being held this week in Des Moines for the first time since 2018.
"After a two-year absence, we're thrilled for the return of Work Pork Expo, showcasing the latest developments in the U.S. pork industry," said NPPC President Jen Sorenson, communications director of Iowa Select Farms in West Des Moines, Iowa. "U.S. pork producers have a number of near-term challenges and priorities, including a federal court ruling that, if implemented later this month, will cause tremendous harm to hog farmers across the country. We need the Biden administration to quickly intervene and prevent this disastrous scenario from becoming reality."
The federal court decision, which takes effect on June 29, strikes down a provision of USDA's New Swine Inspection System (NSIS) allowing for faster harvest facility line speeds and will reduce plant capacity at six plants running at NSIS line speeds by as much as 25 percent.
California's Proposition 12 set to go into effect next year will impose animal housing standards on farms across the country, while driving up costs for both pork producers and consumers. NPPC and the American Farm Bureau Federation have filed a lawsuit in the U.S. Court of Appeals for the Ninth Circuit, asking the court to strike down Proposition 12 as unconstitutional under the dormant commerce clause and a court ruling is anticipated by mid-summer.
Speaking to the issues were:
NPPC President Jen Sorenson, Iowa Select Farms
NPPC Vice President Scott Hays, Missouri
NPPC CEO Neil Dierks
Nick Giordano,Vice President and Counsel, Global Government Affairs
Liz Wagstrom, Chief Veterinarian
Michael Formica, Assistant Vice President and General Counsel
NPPC Pork Expo presser
(54:39)